This Is Who I Am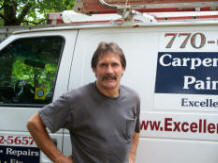 My name is Gary Gervais Talbot. Welcome to Excellence in Carpentry, Inc. serving metro Atlanta.
Excellence in Carpentry was established in April of 1994 after working with a local home builder for seven years as a punch out carpenter (doing everything from drywall to trim to remodel to "fix it"). Prior to working here in Metro Atlanta I worked eight years in Maine, where I lived until 1987. In April of 2009 I reached my 30th year working in home repair and remodeling.
My goal is to fully satisfy my customers. I am a residential craftsman, capable of performing just about anything that one man can do alone. Even though I work alone, I have finished six basements (brought in appropriate contractors), remodeled bathrooms (some with tile), remodeled and repaired decks, built entertainments centers, encased fireplace mantles with bookshelves, and completed other high-end projects. I am a master at wood rot repair and termite damage, finding and fixing the hidden damage.
Some would say that I am a perfectionist - this is a good thing if I'm working on your home. I am committed to work according to the description of my name, Excellence in Carpentry.
I look forward to speaking with you about your project. Please call my office at 770-682-5657.
.